THE MANDATE TO BAPTIZE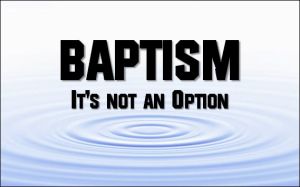 Yes, we are required to baptize and be baptized. In the "Great Commission," Jesus instructed His followers to "Go therefore and make disciples of all the nations, baptizing them in the name of the Father and of the Son and of the Holy Spirit" (Matthew 28:19 NKJV).
Baptism is part of the process of evangelism. We are to make disciples of all people and follow it up with baptism. Baptism is the logical step that follows salvation. It is a command of God. If you are not willing to follow Him in this simple step, will He be able to trust you with anything else?
THE MODEL OF BAPTISM

As we have seen, the decision to be baptized has, for many people, been live-changing (and in some cases, life-ending). We can also point out at least one case in more recent history. In 1812, Adoniram Judson set out for India to be a Congregational Missionary. During the lengthy voyage, he and his wife, Anne, studied the Bible about baptism and realized they had not been scripturally baptized. When they arrived in India, they were baptized and became Baptists. About the same time, Luther Rice, another American missionary, was having a similar experience aboard a different ship. When Rice and Judson cut their denominational ties, they were left with no financial backing. This prompted Rice returned to the States to try to gain support. From his fund-raising efforts an organization was formed, which was usually called the "Triennial Convention."[i] Eventually this led to the establishment of the Southern Baptist Convention, which has a commendable focus on missions.
Why would people like Rice and Judson, not to mention scores of others throughout history, allow the decision to be baptized alter their lives forever? Aside from the fact that baptism is commanded by God, we also have great examples of biblical characters who obeyed in this area. Let's consider a few of them.
John the Baptist
John the Baptist lived, of course, long before the Baptist denomination was founded. We know him as "John the Baptist," though, because of the hallmark of his ministry: he baptized people.
John's task was to prepare the way for the Messiah, Jesus Christ. In preparation for the kingdom which Jesus was to establish, he commanded his listeners to repent and be baptized.
Although John the Baptist made baptizing people a highlight of his ministry, the practice did not originate with him. There is evidence in ancient religions and Judaism that people and objects were ceremoniously purified by putting them in water. So, the people observing John's ministry understood that these folks were immersing themselves into a new religion.
Then Jerusalem, all Judea, and all the region around the Jordan went out to him and were baptized by him in the Jordan, confessing their sins. (Matthew 3:5-6)
When people were baptized by John, the baptism was accompanied by confession of sins. To confess something is to acknowledge or to agree completely with it. These people were acknowledging their sin before God and the world.
Notice how baptism and confession go together. As we have seen, it seems that confession and baptism are almost simultaneous. There is no waiting period.
While we're on the subject of John's baptism, let's focus in on a subject that may seem a little sticky at first. Describing his ministry, John said:
I indeed baptize you with water unto repentance, but He who is coming after me is mightier than I, whose sandals I am not worthy to carry. He will baptize you with the Holy Spirit and fire. (Matthew 3:11)
The tricky phrase is "baptize you with water unto repentance." What does this mean? To help us understand, we have to remember the context. As John was busy baptizing, a group of Scribes and Pharisees showed up on the river bank. These self-righteous religious leaders had no intention of confessing their sins and being baptized, and John knew it. They had no desire for repentance because they figured their righteous deeds made them good enough. John disagreed.
But when he saw many of the Pharisees and Sadducees coming to his baptism, he said to them, "Brood of vipers! Who warned you to flee from the wrath to come? Therefore bear fruits worthy of repentance, and do not think to say to yourselves, 'We have Abraham as our father.' For I say to you that God is able to raise up children to Abraham from these stones." (Matthew 3:7-9)
He commanded them to "bear fruits worthy of repentance." In other words, "If you want to be baptized (which I'm sure you don't), let me see some evidence of your repentance! If you don't have repentance, you have no part in this baptism."
I indeed baptize you with water unto repentance, but He who is coming after me is mightier than I, whose sandals I am not worthy to carry. He will baptize you with the Holy Spirit and fire. (Matthew 3:11)
Remember the Anabaptists? They knew that baptism would most likely put their lives in peril. The folks John baptized also knew that they were setting a mark on themselves. But they had repented of their old ways. They were new folks now. As a result, they were willing to be identified with Jesus Christ, even to the death.
This might be a good time to tackle another difficult passage dealing with baptism. This time the setting is the birthday of the church, known more popularly as the Day of Pentecost.
Then Peter said to them, "Repent, and let every one of you be baptized in the name of Jesus Christ for the remission of sins; and you shall receive the gift of the Holy Spirit." (Acts 2:38)
At first glance, it seems that Peter is promising that baptism will bring remission of sins. However, this cannot be the case, as we have already seen that baptism is not a requirement for salvation. So Peter must have some other meaning in mind. A few verses later we get to see the response of the people to Peter's message.
Then those who gladly received his word were baptized; and that day about three thousand souls were added to them. (Acts 2:41)
Notice the order of events—they received Peter's word, then they were baptized. Although in verse thirty-eight Peter seems to say that baptism will bring remission of sins, is it possible that because repentance and baptism take place in such quick succession that he lumps them together in one statement?
I tend to think that one reason that this is a difficult topic is that we too often have a superficial view of salvation. If I just say a certain prayer in the right way, I'm in. If I assent to the fact that Jesus is the Son of God, I will be saved. If I confess that I am a sinner, I will go to Heaven. However, salvation is much deeper. Those who truly believe will have a heart change. If there is a heart change, there will be a life change. If there is a life change, you will be happy to be publicly identified with Jesus Christ.
With that in mind, allow me give you my summary of what Peter is saying: A clear understanding of who you are and who God is will prompt you to confess your sins and turn from them. Baptism (publicly identifying with Jesus) will follow, and you will not have a problem with it.
Baptism is not optional. Where in the Bible do you see any true convert trying to weasel out of baptism? No one says, "Since baptism is not required for salvation, I know that God understands if I don't go through with it." To refuse baptism would be like agreeing to marry someone but not letting anyone know. Why not? If you're ashamed of that person, you better not marry them!
Jesus
Not only did John the Baptist believe in baptizing, but so did Jesus. Of course, Jesus needed no repentance, but He still set the example for His followers.
Then Jesus came from Galilee to John at the Jordan to be baptized by him. And John tried to prevent Him, saying, "I need to be baptized by You, and are You coming to me?" But Jesus answered and said to him, "Permit it to be so now, for thus it is fitting for us to fulfill all righteousness." Then he allowed Him. When He had been baptized, Jesus came up immediately from the water; and behold, the heavens were opened to Him, and He saw the Spirit of God descending like a dove and alighting upon Him. And suddenly a voice came from heaven, saying, "This is My beloved Son, in whom I am well pleased." (Matthew 3:13-17)
Why did Jesus get baptized? Using His own words, He did it to "fulfill all righteousness." Put another way, everything that God requires should be done. God requires baptism, so Jesus submitted to it.
The eunuch
Another example of baptism in the New Testament is found in the account of the Ethiopian eunuch. This man was a high-ranking official in the queen of Ethiopia's court (she is known as "Candace" or kandake, which is a title that refers to the line of queens in Egypt during that time period). This eunuch had travelled to Jerusalem to worship, and on his return trip was sitting in his chariot reading Isaiah's prophecies. He came across Philip, whom by divine appointment "happened" to be in the desert at just the right time. He invited Philip into his chariot, where for the next several miles he was treated to a tailor-made sermon about Jesus. The topic of baptism must have come up in Philip's lecture, because as soon as they passed by some water, the eunuch interrupted him by saying, "See, here is water. What hinders me from being baptized?" (Acts 8:36). Philip's response: "If you believe with all your heart, you may." Notice what precedes baptism: belief.
Both Philip and the eunuch climbed out of the chariot and "went down into the water" (Acts 8:38). I point this out because Philip did not open his flask and drizzle a pint or two over the eunuch's head. That would not be a baptism. They had to get down into the water so the guy could get all wet. All those present (I take it for granted that a man of such a high position would not be traveling alone) would understand that he was immersing himself fully into identification with Jesus Christ. It was not a half-hearted thing. He believed with "all his heart."
Cornelius
The final example that we will consider is Cornelius, an officer in the Roman military. Although he was a Gentile, he sincerely feared God. Through an interesting set of circumstances, God brought this man and Peter together so Peter could show him the way of salvation. As Peter was preaching to a large crowd made up of Cornelius' friends and family, the Holy Spirit suddenly came on the whole group. Here is Peter's response to this bizarre circumstance:
Can anyone forbid water, that these should not be baptized who have received the Holy Spirit just as we have? (Acts 10:47)
While this one-of-a-kind event could allow us to branch off into several directions, the reason I mention it here is to show that baptism did not bring the Holy Spirit to these people. The Holy Spirit was there first, then came baptism.
CONCLUSION
I understand that this has been a somewhat lengthy look at baptism, but I feel it is justified because of the importance of the subject. I hope you will be able to agree with me that baptism is not optional for the believer. While baptism is not necessary for salvation, it naturally follows on the heels of saving faith. The topic of water baptism is woven throughout the New Testament as an outward picture of the immersion of the new believer into the body of Christ.
This study is not meant to be merely intellectual (at any level), but practical. If you have placed your trust in Jesus Christ and have not been baptized, why not? Are you ashamed of Him? Are you in such rebellion that you refuse to obey God's command and follow Jesus' example? Are you fearful? Why not overcome whatever obstacle you have and take this first step of obedience?


Articles in this series:


Baptism: It's not an Option (The Method)
Baptism: It's not an Option (The Meaning)
Baptism: It's not an Option (The Mandate and Model)
[i] http://www.sbhla.org/bio_adoniramjudson.htm