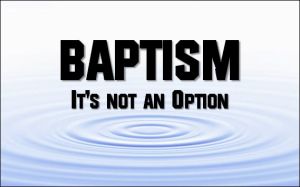 Let's dig a little deeper into the meaning of baptism. If this is new to you, it is possible that you might think that the whole thing is a little strange. What is the purpose of dunking a person in a lake or oversize bathtub for the whole world to see? I guess we should begin with what its purpose is not.
Baptism is not for salvation
If baptism was necessary for salvation, would it be reasonable to expect that Paul would have made it a focus of his ministry? However, just the opposite seems to be true.
Is Christ divided? Was Paul crucified for you? Or were you baptized in the name of Paul? I thank God that I baptized none of you except Crispus and Gaius, lest anyone should say that I had baptized in my own name. Yes, I also baptized the household of Stephanas. Besides, I do not know whether I baptized any other. For Christ did not send me to baptize, but to preach the gospel, not with wisdom of words, lest the cross of Christ should be made of no effect. (I Corinthians 1:13-17)
I find it difficult to believe that Paul discounted baptism as unnecessary or unimportant, because of the focus that Jesus and the Apostles put on it. However, he must have understood that his status as an international church planter could have influenced some folks he baptized to wear it as a badge of honor. I was baptized by Paul—who baptized you? Because salvation was not required for salvation, he felt best to leave that task to others.
Here are some other verses that show how salvation is achieved. Notice how baptism is conspicuously absent.
For by grace you have been saved through faith, and that not of yourselves; it is the gift of God, not of works, lest anyone should boast. (Ephesians 2:8-9)
 So they said, "Believe on the Lord Jesus Christ, and you will be saved, you and your household." (Acts 16:31)
Not by works of righteousness which we have done, but according to His mercy He saved us, through the washing of regeneration and renewing of the Holy Spirit (Titus 3:5)
Baptism is identification with Jesus Christ
In the New Testament, a person would be baptized when he decided to identify with the Messiah, Jesus Christ. To identify with someone is to publicly show that you believe in him and support him. That, by the way, is exactly what you do every time you don the overpriced regalia of your favorite sports team. You are proud of your team and you want everyone to know it.
Baptism is a picture of the baptism of the Holy Ghost
Or do you not know that as many of us as were baptized into Christ Jesus were baptized into His death? Therefore we were buried with Him through baptism into death, that just as Christ was raised from the dead by the glory of the Father, even so we also should walk in newness of life. (Romans 6:3-4)
 Because we have already seen that water baptism is not a part of salvation, it is obvious that the subject of these verses is not water baptism. It is rather the baptism, or immersion, into the body of Christ, which is done by the Holy Spirit. This, by the way, is the reality to which water baptism points.
To understand how this works, we need to understand all the elements of baptism. Three participants are necessary: the baptizer (who is doing it), the baptizee (the one being baptized), and the element of baptism (what is being used for the baptism).

In water baptism, such as you might observe in a church service, the three participants are usually the pastor (baptizer), the person being baptized (baptizee) and water (element).
The baptism of the Holy Ghost, to which Paul refers in Romans 6:3-4, also possesses all three participants. They are: the Holy Ghost (baptizer), the new believer (baptizee), and the body of Christ (element). In other words, the baptism of the Holy Ghost is the baptism by the Holy Spirit into the body of Christ. The believer is totally identified with Jesus Christ.

Here are some additional verses about the baptism of the Holy Ghost:
. . .for John truly baptized with water, but you shall be baptized with the Holy Spirit not many days from now. (Acts 1:5 – the words of Jesus)
I indeed baptize you with water unto repentance, but He who is coming after me is mightier than I, whose sandals I am not worthy to carry. He will baptize you with the Holy Spirit and fire. (Matthew 3:11 – the words of John the Baptist)
And as I began to speak, the Holy Spirit fell upon them, as upon us at the beginning. Then I remembered the word of the Lord, how He said, "John indeed baptized with water, but you shall be baptized with the Holy Spirit." (Acts 11:15-16 – the words of Peter)
When you are baptized by the Holy Spirit into the body of Christ, you are immersed into complete identification with Him. Let's keep reading what Paul wrote to the Romans.
For if we have been united together in the likeness of His death, certainly we also shall be in the likeness of His resurrection, knowing this, that our old man was crucified with Him, that the body of sin might be done away with, that we should no longer be slaves of sin. (Romans 6:5-6)
So, why wouldn't you be baptized? Are you ashamed of Jesus Christ? He certainly was not ashamed of you! He might be, though, in the future . . .
For whoever is ashamed of Me and My words in this adulterous and sinful generation, of him the Son of Man also will be ashamed when He comes in the glory of His Father with the holy angels. (Mark 8:38)
Now that we know what baptism is and that it is not a part of salvation, we have to ask another question. Are we commanded to do it?
Articles in this series:


Baptism: It's not an Option (The Method)
Baptism: It's not an Option (The Meaning)
Baptism: It's not an Option (The Mandate and Model)