Let it go, let it go!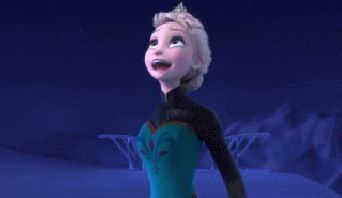 If that phrase means nothing to you, I suspect that there are no children in your house. Just like any self-respecting father of a juvenile daughter, I have caught myself humming the Frozen songs more than I care to admit.
I want to make it clear that I have only seen the movie once, but the sound track has been reverberating incessantly through our house. After some detective work, I finally narrowed down the source to my daughter's computer. Somehow she figured out how to make it loop, so we can all be blessed with the music even when she is not around.
It was not long before I started to believe I was going crazy…the music was everywhere! Then I realized that it was being played over the speaker systems in grocery stores and restaurants. Constantly we have been barraged by the question, "Do you want to build a snowman?" Really? After this winter? Of course I don't want to build a snowman. I don't even want to see snow!
Recently I was sitting in my office with Frozen the farthest thing from my mind. I was studying Mark 10:30, in which Jesus informs us that those who have sacrificed for Him will "receive a hundredfold." Although God owns everything, He promises to reward those who sacrifice to share His message. Unfortunately, our faith is often so weak that we prefer to hold tightly to our temporal possessions. Until we realize how worthless these possessions are, we will never be willing to trade them in for the rewards that God can offer.
As a parent, I detest balloons. Kindhearted folks frequently bestow these wonderful creations upon our children, and the kids love it. Their smiles warm the hearts of the benevolent donors, who then move on to share their generosity with others. All is well until the inevitable happens. The bright red balloon bursts and its spirit goes to the "great balloon paradise in the sky." Then it is my turn to make a feeble attempt at cheering up the brokenhearted child who is left holding a string tied to a small piece of mutilated rubber. Neither Daddy nor all the king's horses can put the balloon back together again. All the love the child has invested in the balloon now comes pouring out in the form of tears. Over a balloon.
All of you parents know what I am talking about. We can't imagine how a child could experience such passionate love for something as insignificant as a balloon. But it is possible that God thinks the same thing about us? We are too often like little children, clutching tightly things that do not matter.
I understand that Frozen's Elsa had something entirely different in mind as she belted out her popular melody on the snowy mountain. However, sometimes I wonder if God contemplates our death grip on insignificant possessions and would like to tell us to "Let it go!"
Published in the Bremen Enquirer on Thursday, June 5, 2014.